24 Nov
9 Types of People You Meet When You Move to Madrid
Moving anywhere new is both exciting and nerve-wracking. There are so many unknowns: Will you like your new city? Is the food good? What's the social scene like? And most likely, what are the people like?
If living in Madrid the past year and a half has taught me anything, it's that there is no cookie-cutter for the types of people you will meet when you move here. Since Madrid is such a big city, it attracts people from all walks of life. Don't believe me? Read on to learn more about the people you will most likely encounter when you move to Madrid.
1. The Permanent Expat
This is the person who will never go back home. It's not that they don't like their home country; they just thrive living abroad and fit in anywhere they go. They're the cliche person who took a year to "find themselves" which then turned into two years, then three and so on. They're adventurous, inquisitive, and have found their niche living the expat life. They may not stay in Spain for the rest of their lives, but they definitely wouldn't complain about moving around Europe or even venturing to a new continent! They'll most likely end up with a foreigner and you'll be jealous of their future dual citizenship.
2. The World Traveler
This person has so many stamps in their passport that it will both impress and intimidate you. How does this person afford to travel every weekend? How is there anywhere in the world left for them to discover?? How can you convince them to take you on their next trip??? You'll be a little jealous that this person has been everywhere on your bucket list, and then some. But you'll also be grateful to have found your #wanderlust inspiration. They'll be a vital resource whenever you plan a getaway and will always have the best recommendations for food, photo ops and fun in a different city.
3. The Wannabe Spaniard
This person loves pretending they are a native Spaniard despite the fact they were born and raised across the Atlantic Ocean. Their wardrobe is stocked with Zara and Mango. Their roommates are Spanish. They speak with a thick Castillian accent. Their boyfriend/girlfriend is Spanish. They've adopted Spanish manners/customs such as running for the metro or enjoying a very slow walk around the neighborhood. You get the picture. They live, breathe, and bleed Spain and would do anything to live here forever.
4. The Lost Puppy

You are always concerned about this person. They seem to have moved to Spain without doing any research beforehand and are severely unprepared for almost everything. They're always clueless and you wonder how they haven't been deported for forgetting to apply for a visa or something. (Real talk: I saw someone post online asking if it was really necessary for them to apply for residency once their visa expired...um, YES!). What's even more worrisome about this person is that they don't know a lick of Spanish outside of hola (in which they pronounce the "h"). You often wonder how they manage living here. But, things somehow seem to always work out for them so your motherly instincts can relax knowing they'll somehow make it through the year.
5. The Party Animal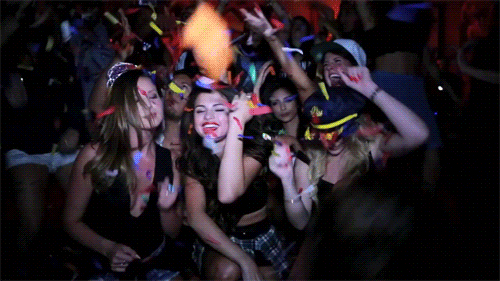 As suggested by their nickname, this person sees their time in Spain as an opportunity to take advantage of the nightlife here. It's like study abroad 2.0 for them. Without a care in the world and taking full advantage of the not-so-real life Madrid offers them. You'll wonder how they manage the long nights ending at 6 am each weekend. But make sure to have at least one friend who you consider a party animal in your Madrid network. Whatever the occasion may be -- you had a long week, it's your roommate's birthday, etc. -- this person will have all the contacts and know the best club deals so that you can live it up and let loose. Tell them where you want to go and they'll handle the rest.
6. The Culture Snob
This is the person who travels to La Rioja once and returns a self-proclaimed wine expert. You'll most likely find them raving about the latest modernism exhibit at the Reina Sofia while they sip their craft beer or cold brew coffee. Their taste buds are able to distinguish the difference between Serrano and Iberico hams. Their weekend plans always include some sort of local concert Saturday followed by a visit to an artisan market Sunday morning. This person means well, but you'll only be able to tolerate them in small doses. But, when friends and family come to visit, be sure to hit this person up for all the cultural activities you can share with your loved ones.
7. The One Who Should Just Go Home
While everyone doubts their move abroad at some point, this person never seems truly happy with their decision. They have nothing positive to say about their time in Spain. They don't like the food, the people, or their job and lament everything they left behind at home. Moving abroad isn't easy and it's not the right decision for everyone. Yet, this person fails to acknowledge the fact that they should move back home. And they will continue complaining about their new city until the very end. You may pity this person now, but be sure to keep them in mind for the future. If you find yourself having more negative feelings about Madrid than positive, it may be time to consider returning home yourself.
8. The Instagram Star
You know those Instagram accounts that always post the perfect pictures? Well, you'll definitely meet someone in Madrid who will become your #goals while living abroad. This person posts the most aesthetically pleasing pictures ever that highlight all the glamour that comes with living in Europe. They treat a quiet side road as their runway and have an eye to capture the absolute best angles of everything and everyone. Everyone wants great pictures to remember their time abroad (and of course to make all their friends back home jealous). So be sure to learn as much as you can from this person! Find out what apps they use for editing, what cameras they suggest, and of course, the most picturesque spots in any city you're traveling to.
9. The Walking Travel Guide
This is the person you will want to become best friends with. No matter the city in Europe, this person knows it all. They will have the best food recommendations, the best neighborhood or hostel recommendations. Even more important, they will be able to give you a personalized sightseeing guide whether you're traveling for a weekend or a whole week. They know the best of the best since they've experienced it all firsthand. If there are any discounts or deals, they know about them. Don't only rely on this person for all your trips; be sure to hit them up for the best of the best in Madrid! It's easy to forget to be a tourist in your own city but this person can help you out of your normal routine to make the most of your time in your new home.
So which type of person will you be when you move to Madrid? Let us know in the comments below!